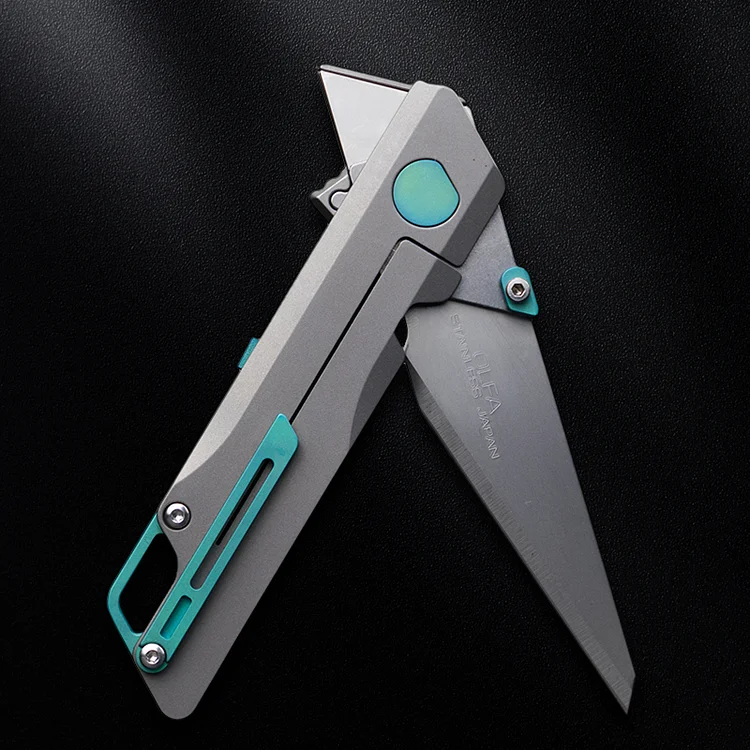 Titaner's inaugural Folding Utility Knife, specifically designed to accommodate OLFA utility blades. This versatile EDC knife is ideal for a wide range of indoor and outdoor activities, providing seamless and effortless blade changes.
There has been many utility knifes already, made from plastic, steel, etc, but RAVEN is remarkably different from any of them. Made from grade 5 titanium, it's corrosion resistant, rustproof and made to last forever. It won't break easily like the plastic nor will there be ageing problem. The weight is also lighter than steel. The natural lustre of titanium metal sets it apart from any other utility knifes and common folding knifes made from synthetic material.
Most of the existing utility knifes are using a push-draw structure, it's ok but not good enough. It takes time to slide the to the length we need. As the usage increase, the common utility knife gets stuck easily when sliding. They are not reacting as fast and smooth as we need. The Raven is a quick open folding knife that can open within 0.5 seconds. The opening and closing is just fast and smooth. And it keeps this way no matter how long you've been using it.
Another problem with common utility knife is the playing problem. People are getting used to the fact that utility knife is just like that. Well, not for the RAVEN. The extreme accuracy control and 2 spacers secure the at the right place. It has the firmness as a pocket folding knife and the utility that can be replaced without difficulty. Two-way screw +410 SS spacer keeps the secure in its place without any playing like other utility knifes do.
A folding utility knife made from Grade 5 titanium. Designed for utility and durability. The Raven is a titanium folding knife with replaceable . It's the true EDC knife you'll want to have on you can use at all times.
Frame made from Grade 5 Titanium
A minimalism folding knife
Use replaceable CKB-2
Quick open with Safe locking
3 finishes of sandblasted, stonewashed, black
2 socket head cap screws will also be added in the box. You can either choose the flat head screws or the socket head cap screws( both will be shipped to you) for a convenient and smooth opening.
The Raven uses CKB-2 made in Japan. The does a great job of cutting, piercing, carving and scraping. Whenever the is blunt, stained or covered by tape, just replace the old with a new one. You can always have the new knife with you.
Please click on the image to access additional blade options of your preference.
The screw can be adjusted with just bear hands. Rotate the screw with nail and you can adjust the tightness of the yourself.
It's a piece of art knifeined the minimal design with excellent properties of titanium metal. The elasticity of titanium and the ceramic ball ensure the locking system smooth and reliable.
Details
Material: GR5 Titanium handle, SS
Length closed: 108.5mm (4.3")
Length open: 169mm (6.7")
Max width: 27.5mm (1.1")
Total weight: 69.3g (2.4oz)
Blade:OLFA CKB-2
Tritium size: 1.5*6mm
Please make sure to comply with the laws and regulations of the delivery place, if there is illegal behavior, we do not bear legal responsibility.