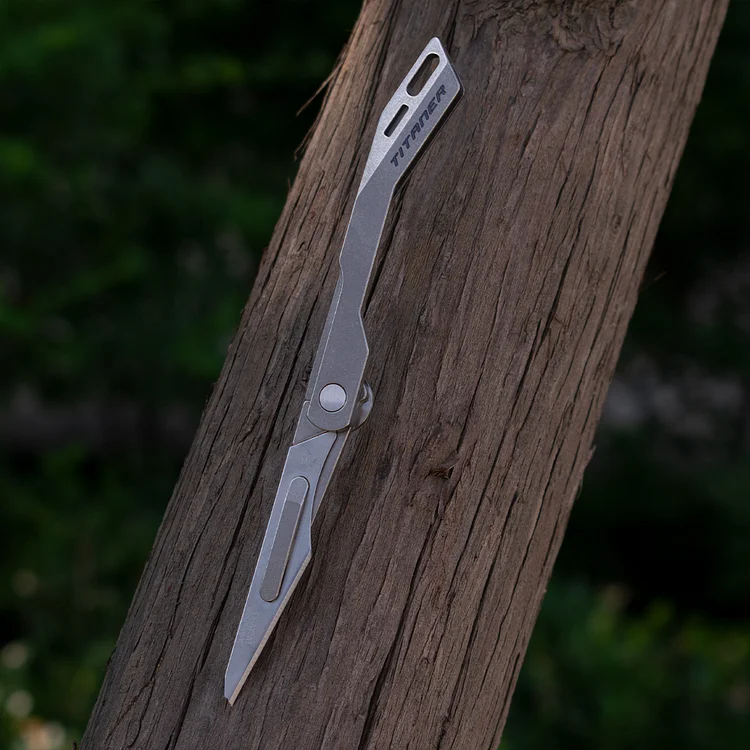 MEETING FALCON 2.0
Today, I am going to introduce you all our newest project Falcon 2.0--
Designed for practical,
durable and stylish, A knife you can take anywhere.
The
Falcon 2.0

is a titanium body micro blade measuring in at a total length of 5.2 inches.
It has the practicality and versatility of a full-size knife—but at a fraction of the weight, and the size of a house key.
Friends who has known us may know the Falcon 1.0-- an eye-catching
titanium micro knife measuring only 2.24" closed - no bigger than a key, simple, solid and stylish.
The Falcon 1.0 project was so popular that there were
1,586

backer supported us.
It was quite beyond our imagination. Up to now, there are
over 10,000

faclon micro knife has been sold,
Speaking of which, let me introduce ourselves to you for people not familar with our brand,
TITANER

.
We are TITANER.

We have been designing and producing all kinds of titanium EDC gear for over 10 years.
Our products and brand have been highly recognised by a small group of loyal customers through all these years.
We design, produce by high precision CNC machining with one of the greatest material, titanium.
We really want to make a difference in this field and make each of our products special, useful and long-lasting.
It is our vision to make the heirloom quality products.
After we collecting tons of feedback from our customer, we finally got our upgrade product, Falcon 2.0,
despite it's advantage of
exqusite apperance, Gr5 titanium material,
lifetime using...
we upgrade it to
bigger size(more handy), compatible to 6 different blades,
2 tritium vial slot, small but full of character,

a pocket knife that you can resis.
You may have a preliminary understanidng of what this project is, yes, this project is all about
micro EDC gadgets!
Let's read more to find out more of its shining points.

The titanium makes the body simultaneously tough and hardy, while also dramatically reducing the weight.
And this knife is compatible for different blades,
#23 #24 #25 #26 #18 #36, the blades is cheap to get, durable, sharp, replaceable.
For the Apperance part, we kept the look of Falcon 1.0.
Inspired by falcons, with their bullet shaped bodies, long pointed wings and hooked claws,
we went through a number of design iterations so that it looks good,
holds well and stays safe in your pocket all whilst minimising the number of parts.

UPGRADE WE HAVE MADE

There was only one tritium vial slot in falcon 1.0. We make it 2 on Falcon 2.0.
Due to legal restrictions, we can't supply tritium vials to you. You can obtain Tritium vials legally in your location.
And Then paste it into the already built-in 2 tiny slots whick measures 1.5*6mm,
the installation is simple and easy. If you don't know how, you can email us. We will send you instruction.
This knife is built to go absolutely anywhere you want to take it include airport security.
You just need to take out blade eaily and throw it away. It is super easy to install and pull out the blade.
Want different style?
Just take 2 seconds to change the blade.
Falcon 2.0 compares with Falcon 1.0
For the size part, we made it bigger to make it more handy. You can operate it eaisly by hand.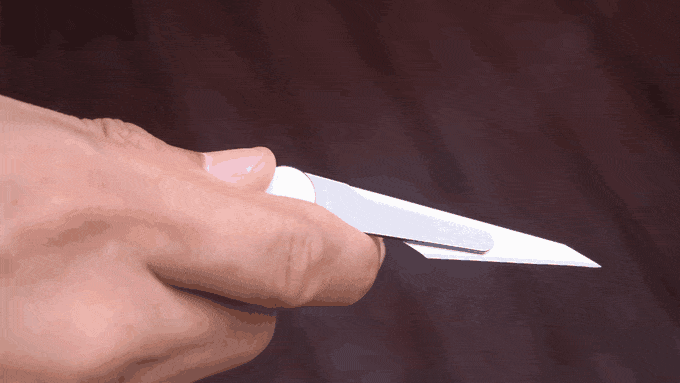 One hand operation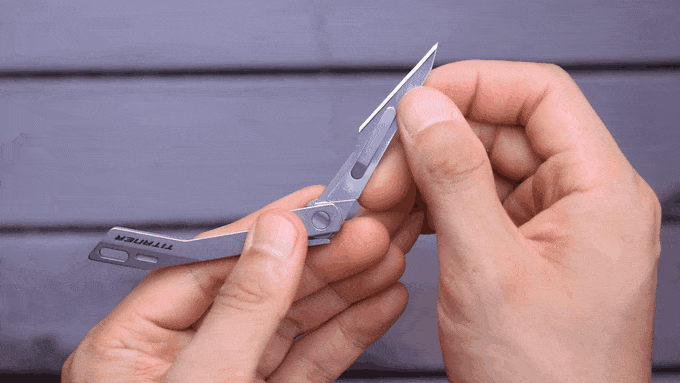 Smart catch system -- Easy for you to change blade
Our falcon series were made to be practical and last-forever.
Therefore, we wanted to avoid this knife having the fate of all those old pocket knives stowed away,
unable to even peel a potato.
Integrating areplaceable bladeit's easy and inexpensive to maintain the sharpest of edges.
Where to use
The
Falcon

2.0 was designed to be versatile, we have been testing the usage of this knife for over 6 month.
It could totally do most of the task a full-size knife could be able to do and at the same time, mantain it portability.
Here's a list of practical uses:
using your imagination to find out more task you can do with our Falcon 2.0. She will never let you down.

Rope cutting

Fire starting

Orange cutting
Specification
perfect for every carry
Material

--

GR5 Titanium
Weight(with
blade) --
11.74g
Color

--

raw titanium color
Length

(open)

--

13.25cm
Length

(closed)

--

7.7cm
Compatible

Blade

--

standard#18 #23 #24 #25 #26 #36 scalpel blade
Guarantee
Based in China, established in 2009, Titaner has been specializing in the design,
manufacturing and sales of various titanium camping, survival and tactical gear.
Our team is driven by the sense of achievement making fine EDC gear by high precision CNC machining,
from raw pieces of titanium material. The best products are yet to come.
Designed and manufactured to be strong, resilient and long lasting for wherever your adventure takes you to.
Please don't hesitate to contact us for any question, our customer service team will reply you within 1 working day.
And don't worry about the quality of product and after-sale service. Customer satisfaction is always our priority.