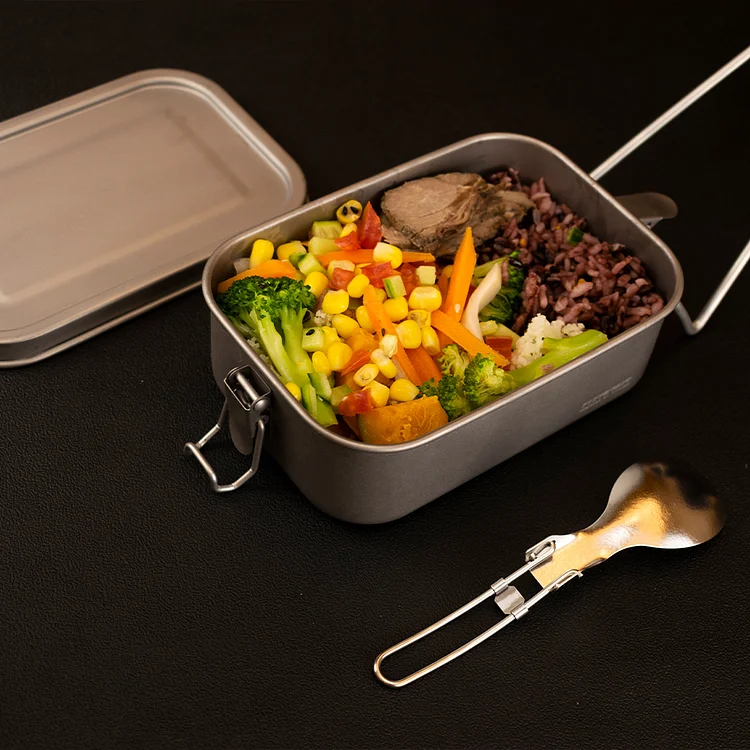 Are you troubled that your luch box is too heavy to take?
Are you troubled that your lunch is always leak into your backpack?
Are you troubled that the plastic lunch box will do harm to your health?
Are you troubled that your bento box is useless when you outside for camping?
Are you troubled looking for a bento lunch box that will satisfy you?
Don't worry!!!
Our lunch bento boxes can solve all those problems mentioned above.
This bento box is with no plastic, the container avoids the harmful chemicals, so you can enjoy lunch time with your friends.
This bento lunch box can keep your food fresh and won't leak out. Designed with locking clips, no matter you put this food container on the backpack or accidentally drop it.
This bento lunch box is made from food grade titanium, made to last forever.
We didn't aim to design an fancy-looking bento box, we wanted to design a bento box that cound convenient everyone's life.
With the character of titanium: Ultra-light, Super Solid, Compatible to human body,
We made this titanium bento box.
Consideing our using habits indoor and outdoor, we made this breakthrough design of combine the lock clicp and foldable side handle to make it leakproof, easy to carry, and useful when you go camping.
Now...
Let's read more to get know this unique titanium bento box.
The design concept of this lunch box is "less is more". As this is a bento box. We almost use is everyday. Therefore, when we designed this box, the core point are:
1. Healthy: food grade titanium+ food grade tritan rim
2. Portable: weighs only 227g, capicity is 700ml, big enough to take enough food and light enough to carry everyday, and it is 100% leak-free, you can just put it in your bag.
3. Functional: You can even use it to heat food or cook noodles when camping.
The doule handle design has never been used on any of the bento box before. But both of them are uesful for different reasons. So there comes double handles.
Big and deep enough to take any food. And this size is super portable.
The rounded rectangle is designed to convenient us to wash it. It is super easy to clean. And the foldble handle can be fold on the top of the box to save space.
Lid clip-locks into place and foldable side handle
Reusable and recyclable
Crafted for portable convenience
Made of high quality food grade titanium
Leak-proof with removable tritum Seal
Made of High Quality Titanium
This bento box is made of pure titanium material, super light, strong, corrosion-resistant, dishwasher safe, durable and won't rust or erode overtime.. It will also not retain or impart colors, stains, odors, or flavors into food. And the most important thing is that It is non-toxic and compatible with human body.
Convenient Size
700ml capicity, great for camping, hiking, backpacking, survival, and other outdoor activities.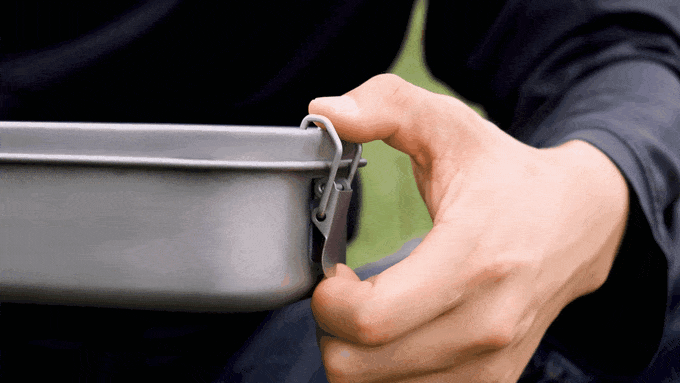 Sturdy Lock Clips and Space-saving Handle
The design of the lock clips is super sturdy, no matter you put this food container on the backpack or accidentally drop it, the lip will not open and keep food perfectly inside the box.
And you can fold the long side handle up to the lid. Easy for you to use and save space.
Can be Heating Perfectly
With a long side handle, it is easy for your to boil noodles or heat rice when you are out for camping. The four round bottom edges for easy cleaning and efficient heating.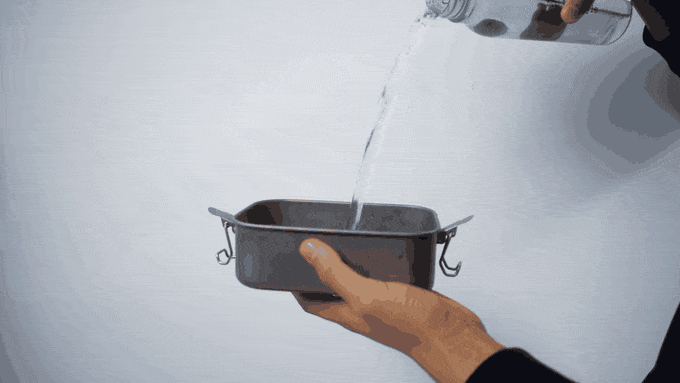 Perfect Leak-proof for Packing Food
This titanium lunch box is designed with lock clips, underneath the bento lunch box lid, we installed a tritan ring to enhance leak proof and to keep food fresh. With the stury lock clips, no matter you put this food container on the backpack or accidentally drop it, the lip will not open and keep food perfectly inside the box. Just enjoy traveling without worrying about leaking lunch containers in your bags.
Eco-friedly and Lifetime Using
Don't spend your money by using disposable plastic containers and live in a more eco-friendly way. This titanium bento box is eco-friendly and can be used lifetime.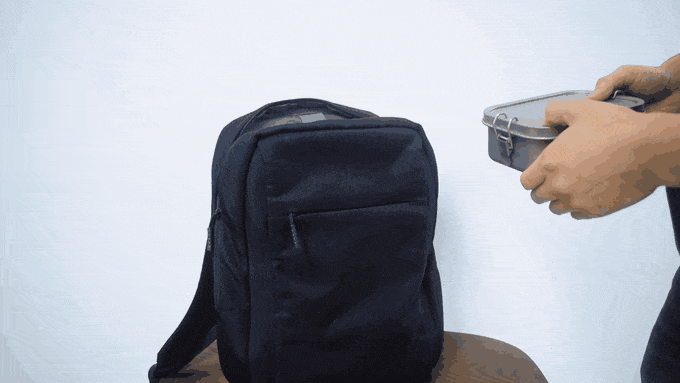 Wide Application
Our lunch boxes can be used in many occasion, Perfect size suitable for nutritious sandwiches and vegetable salad on the go. It is also great for traveling, family car trips or snacks on the move! For kids, men and women. Take the box to work, school, camping or any outdoor meals.
Easily to pack your entire lunch for your work or school in this portable lunch boxes, with it's character of lightweighted design, you can take them go anywhere.
We strive to minimize environmental footprint and to improve human health. We stand behind our products with a lifetime warranty. Titanium is by far the most durable metal and does not cause chemical pollutions. Feel free to contact us if there ia a question, our customer service team is always here to help!