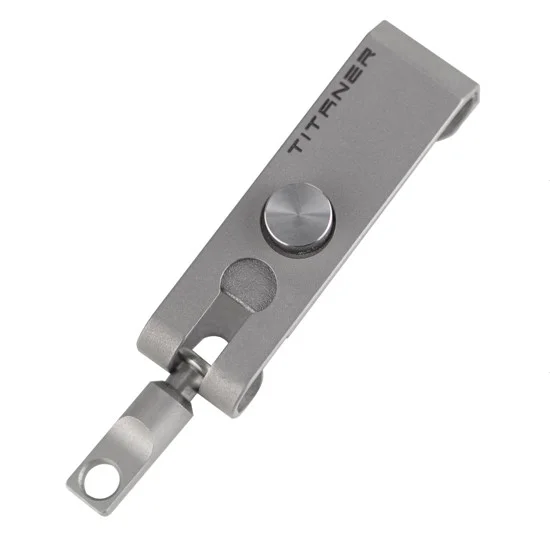 When it comes to everyday carry (EDC), a keychain carabiner is an essential tool. It serves as a key organizer and a stylish decoration. Not only is it a practical accessory, but it also reflects the owner's sense of style.
We're thrilled to announce the newest addition to our product line - the Titaner Titanium Belt Loop Clip. Crafted from premium Grade 5 titanium, this clip is packed with features that we're confident will exceed your expectations.
Check it out!
We are confident that you'll love it at first sight. And let's go through its features, starting from the inside out.
Quick Release Design
The belt loop keychain features a quick-release design, allowing you to remove your keys from your belt in less than a second. With this design, there is no need to remove the titanium clip. All you have to do is push the small button and take out the keys that are attached to the key rings.

The small joint that connects the key rings and the belt clip is meticulously crafted using CNC machining. Once attached to the titanium belt loop, it allows for smooth 360-degree rotation, ensuring that your keys stay organized and easily accessible at your waist.
Minimalism Design
We've designed our belt loop clip with the "Less is More" principle in mind. By keeping the number of components to a minimum, we've ensured that the entire system is more reliable and efficient.
Our belt loop clip is crafted using wire electrode cutting and CNC machining techniques, resulting in a one-piece design with no extra parts, springs, ball bearings, screws, or other unnecessary components. This simplicity sets it apart from other similar offerings on the market.
Grade5 Titanium= Durability
We think the most important feature of a quality keychain clip is durability.
Titanium is an incredibly durable material that can withstand frequent use without breaking or wearing down easily. Even in challenging environments such as exposure to strong acids, bases, and extreme humidity, titanium remains highly resistant to rust and corrosion. This means that your keys will remain safe and secure, and the titanium keychain will stay looking great for many years to come.
In addition to its exceptional durability, titanium possesses a range of impressive characteristics that make it the ideal metal for daily use items.
Upgrade your keychain with this sleek titanium clip, and replace the cheap zinc alloy one.
Wire Cutting

Structure

+ Natural Elasticity

of Titanium
You may be wondering how the gate can close and keep the keys securely in place without a spring. The secret lies in the well-designed wire electrode cutting path, as well as the natural elasticity of titanium metal. When the small button is pushed open, the titanium body flexes slightly, allowing the keys to be easily attached or removed. Once the button is released, the titanium body returns to its original position, closing the gate and securely holding your keys in place.

Precision CNC Machining
You may already know that we utilize CNC machining techniques for the majority of our products, but in case you are not familiar, the belt loop clip is crafted from a solid block of Grade 5 titanium, machining one by one inch. This ensures that the quality and texture of the entire product are unparalleled when compared to any assembly line product.
There are times when efficiency is crucial, and then there are times when taking it slow leads to better results.
No way you could lose your keys.

Highlight for your OOTD
Looking to add some extra flair to your formal wear? Look no further than this stylish accessory. Elevate your look and show off your style with this must-have item, perfect for any fashion-conscious individual.
This is how a real gentleman looks.
Versatile Design
It's a simple yet versatile design, which you can use for
Attaching a belt loop or waistband for easy access;
Attaching keys to a backpack or purse;
As a clip for attaching items to a lanyard or ID badge holder.
It is a versatile accessory that can be used in many different ways to make carrying and accessing items more convenient.
Aesthetics Design
While not strictly necessary for functionality, a good keychain clip should also have an appealing design that matches the user's style.
SS bead blast finish= Angular yet round hand feeling