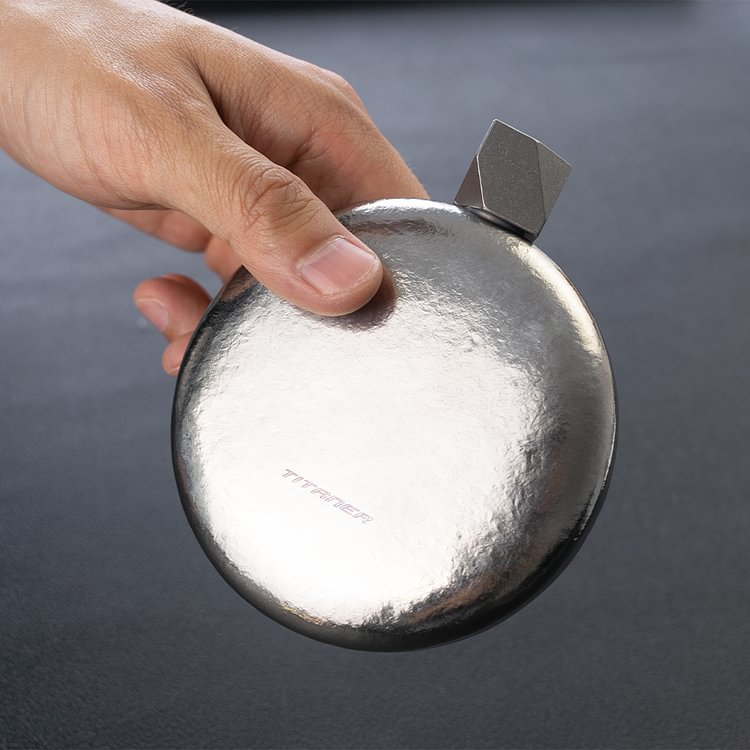 Dearest backers:
Before we get started, just hope everyone is well and healthy during the pandemic.
After the success of the first titanium knife, we are back with another brand new design, the titanium flask with crystal finish and gorgeous colours.
It's a new co-branded product with Titaner, a manufacturer of different titanium everyday carry products. From 3D printed samples, different versions prototypes, to beta tests, they've been very helpful for our new design.
For this titanium flask, we did the designing job and they did almost everything else, again and again. They've been the perfect partner to work with in all aspects, so we decided to make this the joint product with them.
Different from CNC machining, making a stamp product like this flask needs many tooling and models, which require large quantity to run the batch manufacturing, so we are bringing this super lightweight flask made from the most healthy and eco-friendly pure titanium material.
Check the details below and help us bring this product to life. Back us now if you are interested in getting the coolest, lightest titanium flask for you and the ones you care.
Inspired by one of our colleague, who is a liquor lover, we wanted to create a flask that was smaller, lighter, most importantly, looks unique one of the kind in all the flasks in the market. That's why this titanium flask was born, weighs only 48g. even lighter than an egg. With the unique appearance, I am sure everyone will love it!
Just close your eyes and draw a picture in your head. There is nothing better than having a memorable day with your family or friends to toast the day with your alcohol of choice. Especially the liquor is in Titaner flask.
The cap is cut according to the golden ratio of the human body, giving the product an incompletely symmetrical beauty, so as to achieve a relatively perfect visual sensory appearance. When our designer designed this flask, it is totally according to human usage habits.
Our titanium flask is unique and stylish, attracts your eyes on it. It is light and attractive with a titanium crystal look. Just refillable for your choice of alcohol.
The bottle and cap have been designed by our designers, The size of the palm of the bottle, easy to carry, put into your Jean pocket or purse. When you go hiking or outside, you can easy to bring this flask with you. Perfect size as portable flask.
Titanium apart from it being known for its ultralight properties, is extremely safe being a go to metal in medical procedures. This means that the quality of the titanium will not deteriorate over time in contrast to stainless steel and plastic, giving you the customer peace of mind that you are using a product which is 100% safe with food and drink. It's rustproof, resistant to corrosion or acid and base. It's a stable metal material and does not have chemical reaction with other material or liquids. As long as you clean it completely, you can recycle it all the time for totally different things.
We make titanium products with the vision to bring sustainable products that help cut the need for other un-recyclable material in nature. All of our products are made to last. We wish our customer could enjoy the items we made and use it as long as possible.
This flat flask and cup are made of 99.99% titanium without lining and coating. It is tasteless, odorless, non-toxic and dishwasher safe.
Pure titanium keeps the original taste of your beverage because the liquid inside has no reaction under acidic or basic condition, no metallic flavour. Therefore it can keep the original flavour of the content.
Enjoy Your Drink On the Way
Ideal for backpacking,camping and traveling,hiking and sport, festivals, special events, or hanging out at the park or beach, the Titaner Flask allows you to discreetly sip your favourite drink wherever you go.
The ultralight titanium construction alongside the uncoated finish gives the perfect weighted feel, which makes the hip flask easily storable on your trip and comfortable to hold .
Non-slip Design
Different from the traditional round cap, this design avoid slipping when screwing.
Air-Proof Cap Design
Titaner Flask is a perfect gift for you or your friends who love drinking and fashion. You can make it a perfect birthday gift, party gift, Christmas gift, new Year gift...
The Mini Stainless Steel Funnel is crafted from 100% food grade high-quality 304 stainless steel. The professional food-safe stainless steel funnels resist breaking, bending, rusting and corrosion and stay beautifully and safe with you for years.
You will get it in your package, easy for you to refill the liquor.
ADD-ONS
Color Options:
Titaner Flask:
7 colors for you to choose from. Each of them is elegant and cute.
Titaner Wine Cup:
6 colors for you to choose from. Each of them is elegant and cute.
We will try our best to let all of you get this flask as soon as we can. Here is the timeline:
Designed and manufactured to be strong, resilient and long lasting for wherever your adventure takes you to.
Please don't hesitate to contact us for any question, our customer service team will reply you within 24 hours. And don't worry about the quality of product and after-sale service. Customer satisfaction is always our top priority.