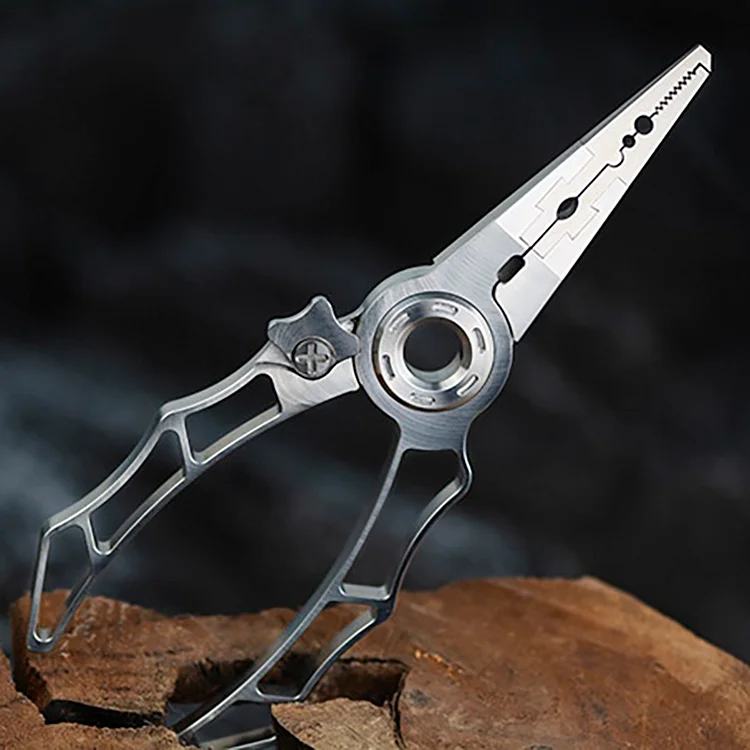 Feeling overwhelmed by the variety of fishing pliers on the market? Look no further! We have just released our new Full Titanium Fishing Pliers which are designed to meet the highest quality standards while maintaining a reasonable price point.
Titaner Titanium Lure Fishing Pliers!!
The pliers are expertly crafted with the most durable and lightweight material, Grade 5 Titanium, to ensure a comfortable and efficient fishing experience.
Say goodbye to the hassle of searching for the perfect pliers and hello to your new go-to fishing tool.
Full Titanium Construction
Our fishing pliers can handle it all, from grips to customized screws, no matter the environment. Everything is titanium.
Features
Ultra-Light

Saltwater resistance

Anti-Corrosion

Rustproof

Built to last
Resistant to Rust and Corrosion
Thanks to the Grade 5 titanium material, the whole body is resistant to rust, corrosion of sea water, which allows you to use it for even harsher environment.
Seawater
Fresh water
No matter your standard for fishing pliers, our pliers are made to meet and exceed them.
Perfect Weight & Quality
Experience effortless fly fishing with Titaner pliers - a 5.9 inch pliers that won't weigh you down at just 49.46 grams (1.74 oz).
Make a one-time investment in a lifetime of pleasure with our pliers - featuring an full titanium construction. It feels way better than any anodized aluminum frame.
And it lasts longer than a life time.
Hollow

Out

Handle Design
Our pliers are designed for hands, not just for looks - but their attractive design will still catch your eye.
The pliers are with hollow handles that reduces weight and provide a comfortable grip for hands of any size.
Functions:
1. Grab things ( hooks, tag ends, etc)
2. Cut things( fishing for big game fishing for salt water fish)
3. Open split rings;
4. Removing the hook.
Save your fingers!
Opening split rings
Cutting line
Adjusting the balance weight
Precision CNC Machining
The titanium pliers have been crafted entirely through CNC machining, including the frame and small screws. This meticulous process results in a flawless finish and an exceptionally comfortable grip, providing a smooth and satisfying sensation even when simply holding the pliers.
Collectible CNC Artwork
Easy-to-use Fast Lock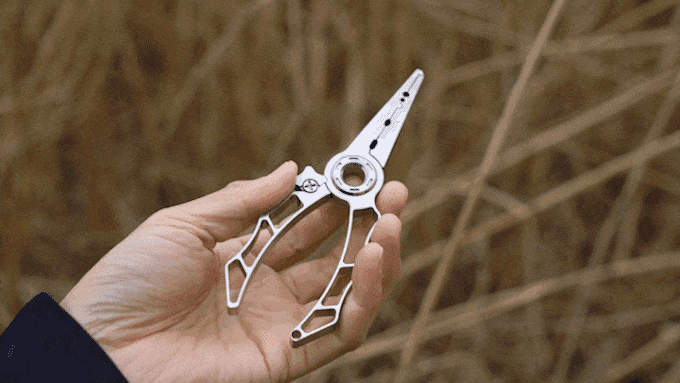 Tungsten Steel Cutter
Our cutter is made of tungsten steel, known for its exceptional hardness and durability. It effortlessly cuts through lines like a hot knife through butter, providing a smooth and precise cutting experience.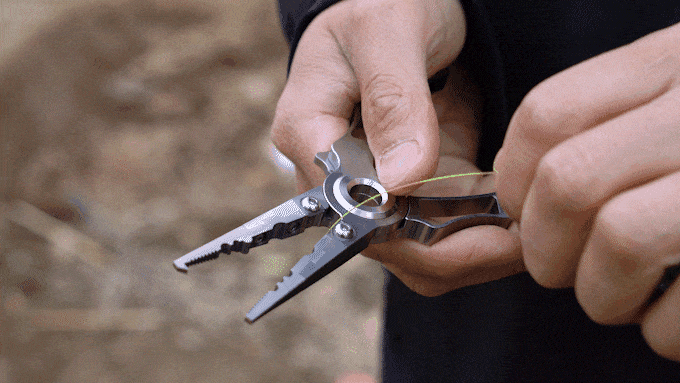 Modular Designed Jaws
Our pliers feature a modular design with replaceable jaws that can be easily swapped out with other modules. We're excited to announce that we may introduce additional jaw modules as stretch goals in the future, so stay tuned for updates!
Specifications
Frame Material: GR5 Titanium
Cutting edge: Tungsten steel
Overall Length: 146mm (5.7 inch)
Total Weight: 49.46g (1.74 oz)
49.46g = 1.74 oz
145mm= 5.7 Inch
What's included in the package
Titanium Fishing Pliers

Canvas Pouch

Coil Lanyard

Titanium Carabiner