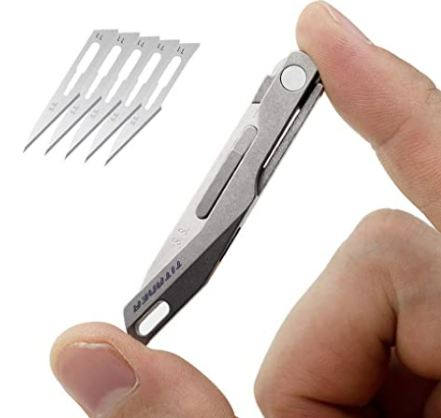 No bigger than a key and lighter than a teaspoon of water, the Falcon is a micro multi-tool designed for those that want a practical, durable and stylish compact multi-tool to take with you everywhere. 2.24" when closed and 3.92" when open, The Falcon is the smaller companion to our first design - The Dragonfly.
We wanted to avoid this multi-tool having the fate of all those old pocket multi-tools stowed away, unable to even peel a potato. Integrating a replaceable #11 scalpel it's easy and inexpensive to maintain the sharpest of edges.
As you may have realised, this project is all about micro EDC gadgets!
With a lot more of a sharper, edged finish vs the Dragonfly, we wanted to create something small but full of character. If like us, you are carrying something like this on your main set of keys every day, it helps if it looks awesome whilst being discreet.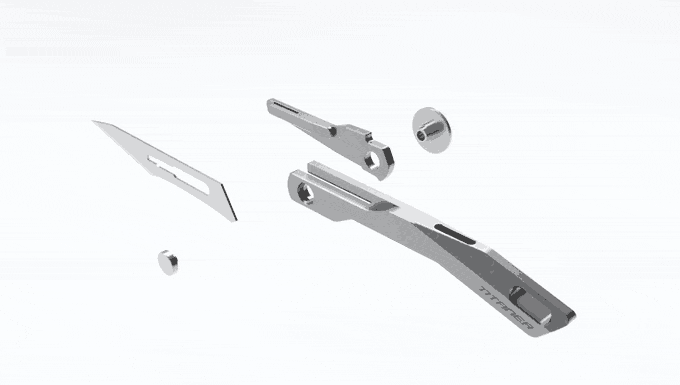 Inspired by falcons, with their bullet shaped bodies, long pointed wings and hooked claws, we went through a number of design iterations so that it looks good, holds well and stays safe in your pocket all whilst minimising the number of parts.
The super sleek design means it parallel parks itself alongside your keys. Take the Falcon with you everywhere you go. We would of course suggest to remove the when flying - pop it in the check in luggage!
NEW FEATURE (Free for all backers with every Falcon purchased, stretch goal) Stainless steel FORK attachment, TSA safe.