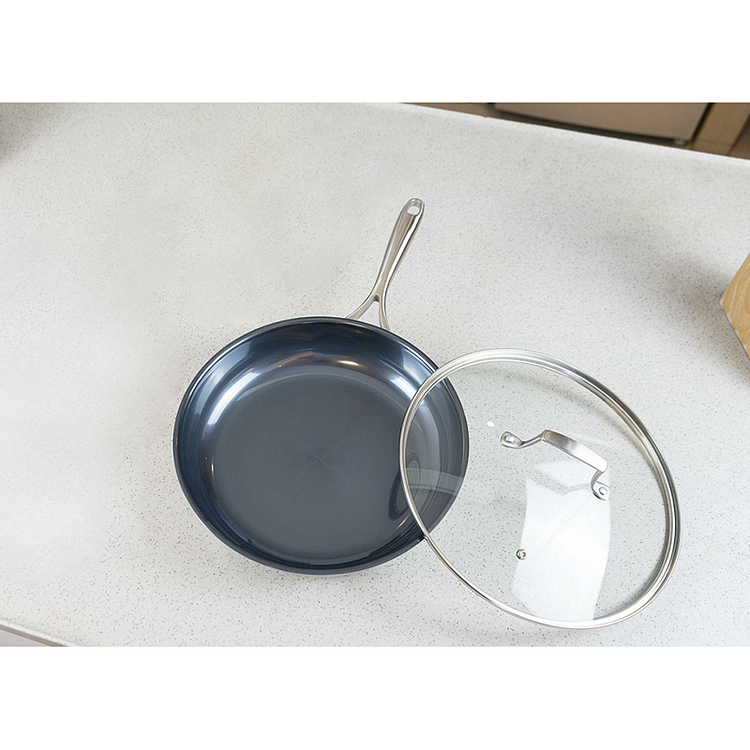 After a long time of investment, we finally found probably the best use of the titanium!
With great material, aesthetic design, proper weight, and long-lasting features, this ultimate pan is the perfect combination of the best features that you can think of for a pan.
Backers who have had Titaner products may know that titanium is a kind of aerospace material, as it's widely used in the aircraft and aerospace industry, because of its great and balanced metal properties.
Besides the common characteristics like rustproof, non-toxic, corrosion-resistant, and lighter but as strong as steel, titanium also with great biological affinity. It's been widely used not only in the aviation and submarine industry but also as the artificial skeletonhasimplanted in the human body.
It can be frustrating that after 14 months of research and development, we still don't get a satisfying pan design. But we know a great design is just the result of continuous effort. Not to say that our designers were crazy about every little detail.
The angle of the handle and the pan is not a coincidence, but the result of 3D printing, and testing, and we finally found the angle that gives you the awesome grip and keeps the best balance when the pan is loaded with different weights of food.
The rim of the pan is also one of the things that cost us so much time. We want to make sure that the pan is with larger cooking area compared with other pans of the same size. Also, the liquid mustn't flow down to the bottom of the pan.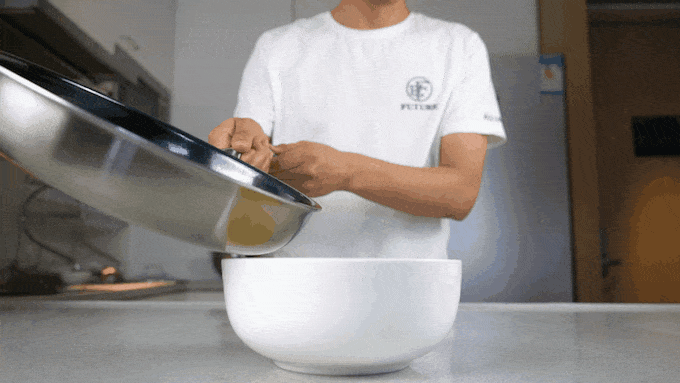 As a result of a hard-working and patient test, the pan performs the best whether you are cooking dry dishes, dishes with sauce, or frying with a considerable amount of oil. You name it, we handle it.
You can always pour whatever is in the pan into a dish, easy and neat.
The handle keeps the best balance for the whole pan. The handle is made of food-grade 304 stainless steel. The ergonomic hollow handle stays cool. It protects your hand from high temperatures and burns, even for a long cooking time.
For those with a plastic or silicone sleeve, you may worry about the durability of the sleeve, but for this pan, never mind. You can put the whole pan into the oven without worrying about damaging any part of it.
Why does it beat any other pan?
It's non-stick but with no coating. Compared with other non-stick pans, which are achieved by coating the Teflon layer, the Titaner Pan is naturally non-stick. Inspired by the lotus leaf performance, the designer creatively applied the Nano-micro strengthening technology when treating the inner titanium material.
The complex production process is done this way to give you a better way to understand.
Naturally non-stick, it's easy to clean, so you don't worry about washing the pan after cooking.
No mess, just enjoyment.
What's more, with no coating, you don't need to worry about destroying the coating when cooking lobster, or clam or using a stainless steel fish slice on the pan. Feel free to show your capabilities in your kitchen, with any tools you like.
Comparison with the same size cast iron pan.
Easy to cook with only one hand, even for women with little strength.
100% Origin flavor of food
Titanium metal is very stable and does not have chemical reactions with any food ingredients, whether it's acidic or alkaline.
Safe and healthy. Your family deserves the best.
Incredibly versatile
The Titaner pan is an all-in-one pan that can save you from swings and roundabouts. You don't need to give up one feature to trade off others.
Non-stick performance, high heat searing, proper weight, and long-lasting features, you can have it all in this titanium alloy pan.
Its natural nonstick surface, high heat tolerance, and durability make it perfect for almost any dish. Pizza, omelets, steak, seafood, veggies. And you can put the whole pan into an oven.
A little bit more cost, way better experience.
A handy tool is a key to getting the job done, and it's true when it comes to cooking, a good pan can truly make cooking a lot easier and more pleasant.
Despite the sleek and minimal design, the construction is quite complicated, with magnetizing stainless steel from the outside, intermediate aluminum alloy, and pure titanium inside. It needs to be emphasized that the inner layer that contact with the food is made of pure titanium, so you have the benefits of the 3 awesome materials in one pan. Healthy, lightweight, and versatile on different heat sources.
The total thickness is 3mm and each layer of the metal is around 1mm.
The surface that comes in contact with foods is pure titanium material. And no other metals will not leech into food.
Compatible with various heat sources
Thanks to the magnetizing stainless steel from the outside, the pan can be used on the gas stove, heating wire, or electromagnetic cooker, feel free to use it on any cooker. This pan can be widely used in any kind of heat source. Grab it, turn your heat on, and start a pleasant cooking time.
From the body, and handle, to the screws, everything is carefully designed and chosen. You'll have no difficulty enjoying this pan for a lifetime. The longer you use it, the more you'll love it. Just like we do.
Easy to maintain
Even with intense daily use, steel fish slices, high searing, and deep frying with a lot of oil, it's super easy to clean and maintain the pan.
For the cast iron pan, if you don't dry it properly after washing, it might rust.
For a common non-stick pan with coating, you probably wouldn't want to use it under high temperature, cause that will hurt the coating. Cleaning the greasy dirt too hard will also hurt the coating, which leads to the coat falling off. It's bad for our body, so once this happens, you'll need to stop using it immediately.
You don't need to worry about any of these with Titaner pan,
Most of the time, all you need is some water and a towel, probably some cleanser essence if you'd like to.
Even if the food is burnt because of a moment's inattention, you can clean the pan with a scouring pad or steel wool. Anything without worrying about the surface.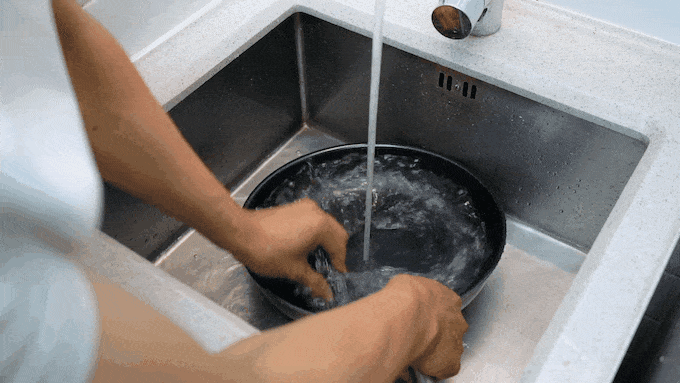 The titanium surface just gets better with time.
A lifelong enjoyment
The stable and strong titanium material and stainless steel we used for the pan make it last long in even the most severe environment that could never occur in a kitchen.
It is perfect now and will stay the same decades later.
It's a pan that can be passed on through generations.
Specifications
There are 26cm and 28cm to choose from. The weight of the 10-inch pan is 1.2kg (2.65 lbs), only half of the cast iron pan.