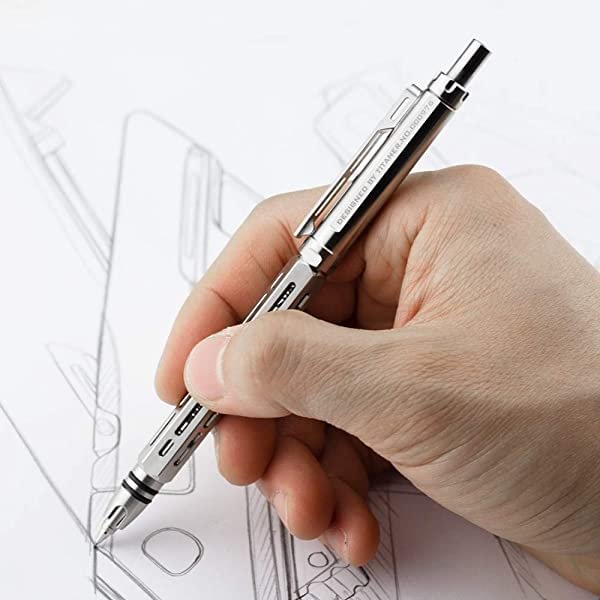 - Gr5 titanium material & Barrel shape design, tactical style and reliable mechanism.

- High precision CNC machining technique, highest tolerance, perfect match between all parts.

- Schmidt DSM2007 0.5/ 0.7mm metal pencil insert, living up to the durable titanium body.

- Hollow out barrel, it looking beautiful and removes extra weight of the pen at the same time.

- Rubber o-ring is also another tactical element and the friction makes it anti-slip while writing, even with wet hand.
Introducing the latest Titaner titanium mechanical pencil. It looks great and it's more than just looking great.
This may be the last mechanical pencil you'll ever need. Made from Grade 5 titanium, it's case is rustproof, corrosion resistant and durable, with great metallic luster made by high precision CNC machining, its utility and beauty will last forever.
Carrying the Schmidt DSM2007 pencil insert component, it writes great and the metal insert lasts long, living up to the very durable pen body.
Different from the standard plastic mechanical pencil, the Titaner mechanical pencil is made to be a classic one. Quality and sleek design from head to toe is shown in every little respect.
A pencil that can write is simply not enough at all. It needs to be excellent for you who deserve the best quality, even is just a mechanical pencil.
2 colors: Silver CNC finish and DLC black to choose from. Silky and shiny CNC finish or low-key smooth DLC black? There is always a suitable for you.
Unique serial number engraved on each piece. Every pencil is unique all over the world.