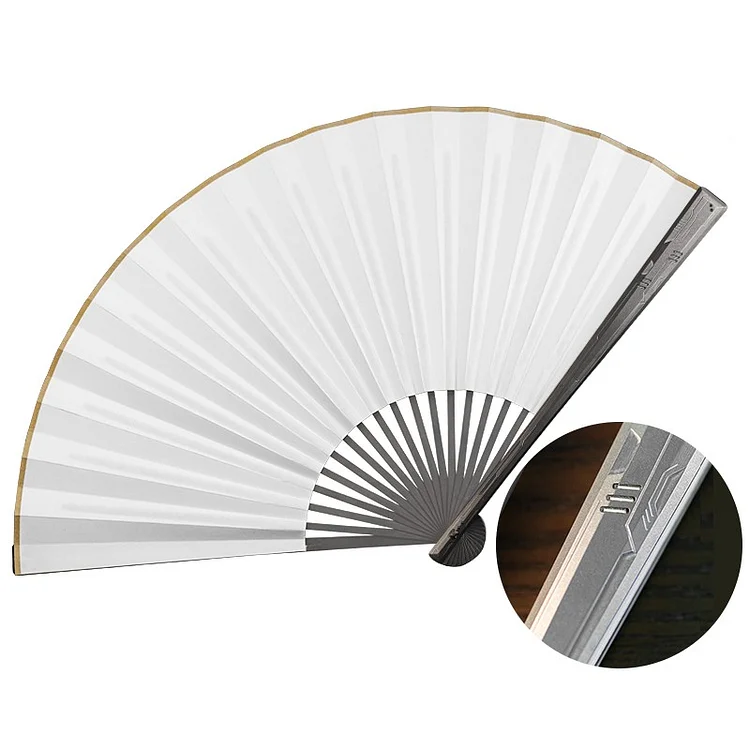 New Release!!! The hand-carved versions are now available.
Hi, Kickstarters! Time to beat the heat with this titanium folding fan. Something that existed 2,000 years ago, and we've brought the aesthetics to the next new level.
The opening is always the best part because we feel so excited to introduce our new design to you.
Meet the brand new Titanium Folding Fan, 起源. This means the origin of everything in Chinese.
This name is given to the fan as a symbol of the breakthrough design. The black and white color matching is like the Yin-Yang of the Tai Chi figure.
Check the latest Kung Fu Fan Form here!
How do you use your fan? :)
As a popular accessory for the upper class in ancient China, a folding fan is absolutely something traditional, but we've decided to make it different from any of the current models. With more modern elements added to it, 起源 becomes a successful combination of ancient and modern.
We'll break down the attractions there-in-after and for now, let's have a good look at them.
Traditional folding fans use bamboo and wood, and the pattern of the fan bone is always very similar. Makers add the difference and expressions by painting on the fanning.
起源 is designed in an absolutely different style, the CNC machined chip circuit pattern on the fan bones makes the whole piece very recognizable and sets it apart from any folding fan you've ever seen.
Retro Style
We used the traditional pie diagram shape, which has been proven to be the most compact, strong, and durable style by over 2,000 years of use.
The painted wall is discovered in Sichuan province, China. This is the earliest fan image found in the world.
The angle and the size allows you to fan very leisurely and it's super comfortable to hold.
What's been improved?
起源 is Lighter, Stronger, Finer, and more Comfortable to handle.
The 12-inch version is 157.67g, 10% lighter than the previous model.
The 13-inch version is 40g heavier than the previous model only because there are 3 more small bones, compared to the old version. In this way, the force spread to each bone is smaller so the fanning is less likely to break or tear.
Weight: only 157.67g(12 in)/ 249g(13 in)
The beveled edges reduce the overall weight and every single edge is smooth and comfortable to handle and use. It seems slimmer and less bulky, but actually stronger and more durable.
Thoughtful details
Rectangle Screw
The unique rectangle screw with pendant hole is too small to be noticed, but this is something you can only see here on our design. The small screw takes as many as seven processes to finish. Every little detail means a lot to a great design.
2 styles of screws will be included in the package, so you can choose the one with a hole if you want to add the pendant. Carrying this folding fan with a fan pendant, no one can be as elegant as you are.
If you want to keep everything simple, you can use the flat screw for a neat and smooth appearance.
Stair-stepping small fan bone
Stair-stepping Design = thinner fan bone, lighter weight & better elasticity.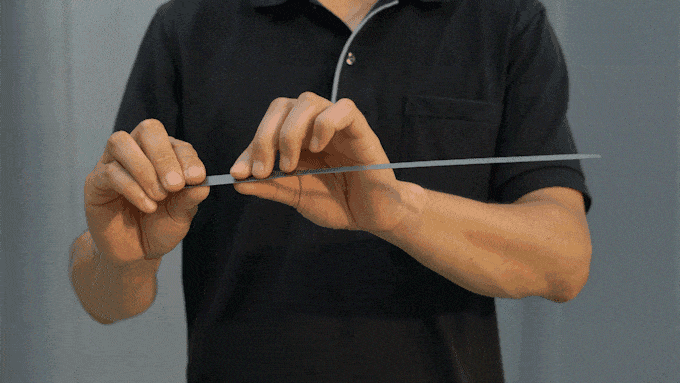 Silk Fanning
Instead of paper fanning, we choose silk, which matches the strong titanium metal perfectly. The silk material we choose is resistant to wear and tear, and it can even bear a strong impact.
You may have see a lot of fans already, but this is truly a waterproof one. The fanning is made of silk and the bone and screws are all made of titanium. So it doesn't break or stain very easily.
The Silk Fanning is also waterproof. You can even protect your hairstyle from the rain for emergency use.
Super Strong Construction
Grade 5 titanium body makes it super strong, firm, and tenacious. We wish you'll never need to use it, but if there is any emergency case, you can use it to break the window of the car or protect yourself from any melee attack.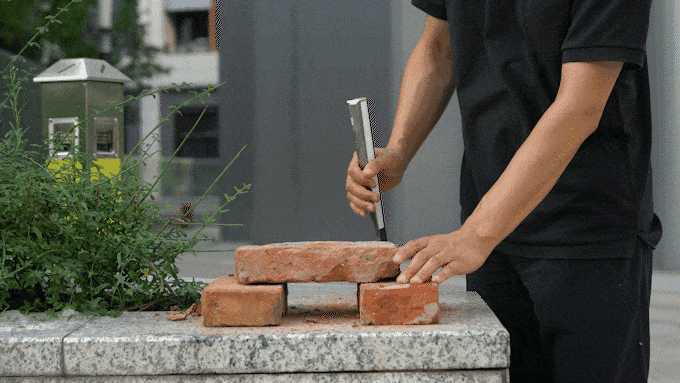 Adjustable Pivot Screw
If you prefer the whole piece to be tight and compact, you can just tighten the screw and open the fan with two hands.
If you want to use it as a Kung Fu fan and need to snap off it, you can loosen the screw and give it more space to move freely.
Mix of lines, grooves, bevel cut and ceramic balls for decoration. It looks great and feels even better on hand. It would be something that you can't stop playing and appreciate.
The perfect accessory for any rave or party. It's also great company when you are alone with yourself.
No matter if you are dynamic or static, it blends in well with your outfit and mood.
It keeps you

cool

, especially when you are sweating a lot.
And it really brings your outfit to the next level.
It's a great conversation starter.

12 inches & 13 inches

Stonewashed gray & PVD black.

Which one is for me?

size Comparison- 13" vs 12"




Spare fanning available

In case you want to paint on the fanning and have it all DIY by yourself. We also offer spare fanning for you to choose from.

The fanning is a great expression of oneself. You can add your personal characteristics to it and make it even more compatible with your lifestyle.

For demonstration only, the spare fanning would be blank.

You can add your own design to the white fanning and make it a super exclusive EDC gear, just for you.

If you have a significant another and you are trying hard to think of a great gift for him/her, you are in the right place!

This would be so unique, high-quality, and thoughtful gift for them. Whenever they see the titanium fan, they'll think of you with good memories.

Reserved Slot for tritium tube

If you are interested, you can always add the tritium tubes or luminous light.

Your fan would be a glow-in-the-dark one and that would be very catchy.

Note: Tritium tube or luminous light is not included.

Note: Tritium tube or luminous light is not included, so you'll need to buy it separately elsewhere.
Comes

with:
Over 10 years of dedication
We've devoted ourselves to the design, manufacturing, and sales of various titanium camping, survival, and tactical gear, for over 10 years. Our team is driven by the sense of achievement in making fine EDC gear by high precision CNC machining, from raw pieces of titanium material. The best products are yet to come. We are grateful for having backers trust and support us for many times.