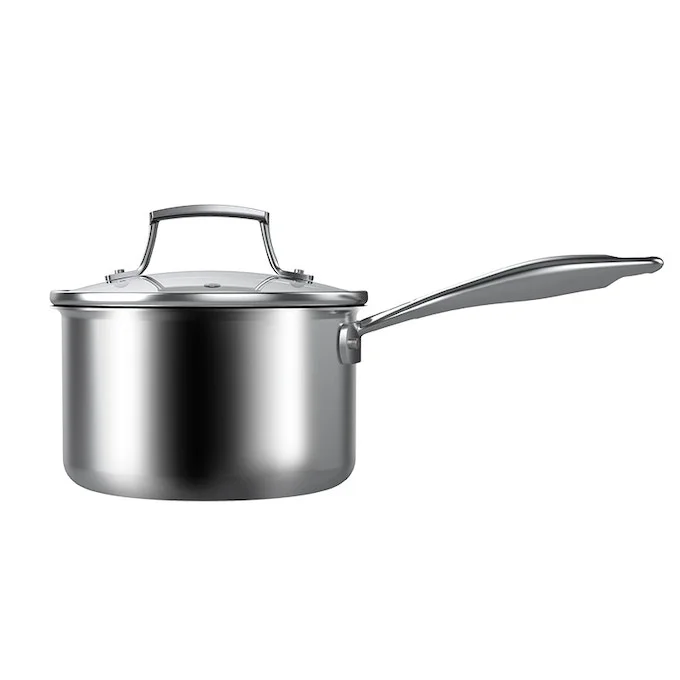 Our Roller Coaster Ride Experience Over The Past Few Months.
3

Layers Full Clad

Construction

We all know that natural titanium is a silver-gray color. What is the dark blue layer inside? Is it coated painted, or enamel?
It is titanium, the Pure Titanium.

It is NOT coated, painted, or enamel.

How is it made?
The titanium surface is instantly treated at a super high and appropriate temperature to increase the hardness. The finish becomes dark blue after this process. The dense oxidation film will also make it anti-sticking.
It's with a fully clad titanium-aluminum-stainless steel structure, not only the bottom part.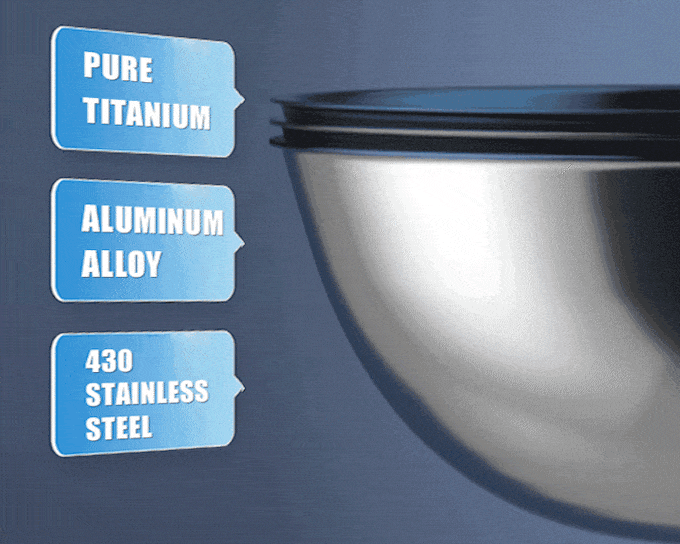 1 Layer of slower heating stainless steel from the outside, so it's easy to clean and can be used for a wide various heat sources, including gas stoves, induction burners, electric stoves, etc.
A core of faster-heating aluminum helps the pan heat evenly and reasonably quickly.
1 Layer of non-reactive pure titanium from the inside. It doesn't react with any food, and you can cook anything including acidic food with it. The ultra-hard titanium surface is also scratch-resistant, and you can use anything you want to clean the pan.
The wire drawing stainless steel surface from the outside is also resistant to scratch and you can use any detergent and steel wool for cleaning both the inside and outside of the pans.
Lightweight:
As the Wok is generally used for stir-frying, which involves some skills such as tossing the wok, it's very important that either you have strong arm strength and wrist strength, or the Wok is lightweight enough.
Common Wok made from iron, stainless steel, or carbon steel just makes it impossible for a non-professional cook, including ourselves.
So, do we have to go through this before we can toss wok?
Of course not!
Titanium Wok weighs only 1.3kg without the lid. That's even lighter than some 8-inch frying pans. You can easily hold it with one hand and toss it.
Anti-stick
We must get up where we fell. This is our second chance to introduce the pan to you and we'll take advantage of this chance to give you a better and real understanding of the titanium pans.
We want to make sure that you know, that all metal pans with no coating will stick a bit to some extent. It's the generality of all metals, but titanium is still the best among all common metals compared to stainless steel, cast iron, and carbon steel.
If you are looking for a perfect non-stick surface on which you can fry an egg with no oil, then only pans with coating can do the job. The concerns of non-stick cookware safety have been blown away, but the impact on the environment caused by the process of coated non-stick production is not. Besides, the coating falls off with time and scratches, and it can't withstand the high temperature.



Key Notes to prevent food from sticking to the Wok/ Pan:
1. Low to Medium Heat
2. The right amount of oil
3. Seasoning is not necessarily required, but it will improve your experience if you have not mastered the way to use it.
4. If you are seasoning the pan, the process is like seasoning a carbon steel pan.
Clean the pan thoroughly and heat the pan with medium heat for about 5 minutes.
Add enough butter or olive oil to the pan, or wipe the pan with a piece of fatty meat for 5 minutes. Please make sure the oil can cover the whole pan. Keep the medium heat during the entire process.
Let it cool down naturally, and remove the extra oil with a paper towel.
Start using it with medium heat and an appropriate amount of oil.
We spent so much time instantiating cookware made of different materials. We are pretty sure that there is NO PERFECT cookware in all aspects, from long-lasting service life, eco-friendly production process, healthy material, rational price, nonstick performance, and suitable for various heat sources. What meets all these criteria all at one time does not exist.
Even so, this titanium pan is so far what we think is the most balanced and close to perfect choice.
Keep

The

100% Origin Flavor &

Color

The titanium is super stable and does not react with any food. There won't be the taste of rust or iron at all.

Feel free to cook any acidic food with your titanium pan. No need to worry about the chemical reaction or the possibility of affecting your pan.
And your green veggies will NEVER get dark with the dark liquid after stir-frying. Nor will there be any taste of iron or metal. A titanium pan is perfect for those who have a keen sense of taste.
Widely applied to different heat sources.
Gas Stove| Electric Stove| Induction Burner| Oven Safe
Versatile
You can use it for nearly any cooking method.
Stir-frying

Steaming

Stewing

Braising

Frying with a lot of oil

Blanching quickly with hot water.
It is super useful especially when you are cooking a big meal that involves different cooking methods. You don't need to worry the water will make it rust, or that the different flavors of food ingredients interfere with each other.

Easy Maintenance
1. If you use it properly and you've been using it consistently, you'll find it's unlikely to stick. And it's super easy to clean it, either by hand or in a dishwasher.
2. Even if you leave it burning on the stove and it's burnt, you don't need to worry about the finish. You can soak it in the vinegar and scrub it with a scouring pad or a steel wool. You'll get a good as new pan.
3. After a long time of use, you may find some dots and stains on the finish. It's just the residual food or oil and can be removed through the above-mentioned method.
Feel free to scrab with steel wool.
Ultra Hard Finish-

Resistant to Almost Anything

When it comes to the anti-sticking performance, many backers found it's like stainless steel. But stainless steel pan gets small scratches easily if you use steel wool to clean it. For our titanium pans, you don't need to worry about this. Normal metal appliances won't hurt the titanium finish at all, which means it will keep the glazing finish for as long time as it can.
Stainless Steel Spatula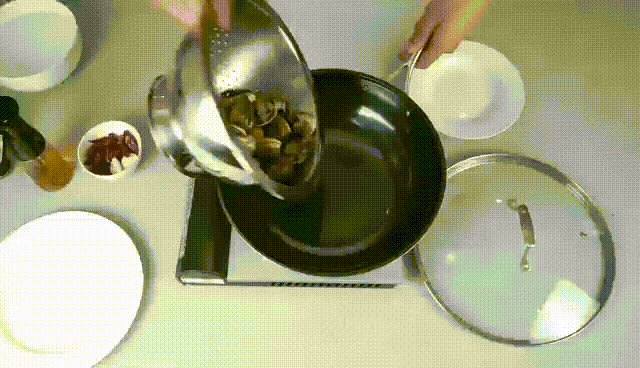 Shellfish will NEVER hurt the Titanium metal at all.
You don't need a full set of cookware, get some essentials and you are good to go.
You don't need a collection of 10 5 or even 3. All you need is 4:
A 12 Inch Frying pan/ Skillet
An 11~12 Inch Wok if you like stir-frying.
A 6~8 Inch Saucepan
An 8 8-inch stockpot.
That's all you need really. And if you have a small kitchen or you live by yourself, you can just pick anyone from above and it will cover most of your daily needs for cookware.
The Ergonomic Designed One-piece molding Handle
The ergonomic handle is super comfortable to hold and it doesn't get too hot even after a long time of cooking.
Easy and comfortable Handling, so you can hold it steadily and control pouring sauce and soups into the bowl.
The shape, balance, and the heat matter. You also want to make sure it's anti-skid, even when you are with wet hands. The handle won't rotate in your hand while you are holding a big heavy hot pan of food.
You can have all of these good features on every one of these titanium pans.
Clean-cut
Lid Design
You may not see any technical difficulty in making a good lid, or you don't even see the significance of the lid and think it doesn't differ that much. We also did research and tests to finally get a good one without having these headaches:
1. It doesn't trap water and provides conditions for bacteria to thrive and breed.
2. It gets crazy hot when you try to remove the lid.
3. The overall look needs to match the style of the high-end titanium pans, and your clean and neat kitchen.
New Titanium Cookware Series.
We've considered the different uses of the pans and made the 6.3 Inch Saucepan a normal titanium inner surface in silver gray natural titanium color, for these reasons.
1. A saucepan is generally used for making soups, sauces, and pasta, and warming butter, etc.
We think it's crucially important for a good saucepan to allow you to observe the color and texture of the food you are cooking.
And because the wall is higher, so it's important that a saucepan need to have a light colored cooking surface so you can easily see the bottom and how the food is going, without pouring it out from the pan.
2. Compared with the ultra-hardened glazing dark blue titanium surface, the normal titanium surface costs less and it still gets you all the benefits of the 3-layer composite pan, at a fairly lower price.
22cm Stockpot (8.7 Inch) 4.5 Quart
Light color cooking surface
Straight sides
Wider opening